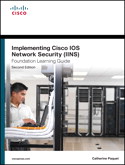 Published: Feb 28, 2012  | Copyright 2013  | Dimensions: 7-3/8" x 9-1/8"  | Pages: 700  | Edition: 2nd
Implementing Cisco IOS Network Security (IINS) Foundation Learning Guide, Second Edition focuses on the design, implementation, and monitoring of a comprehensive security policy using IOS security features and technologies as examples. The book covers security controls of IOS devices as well as a functional introduction to the ASA adaptive security appliances. The flow of the book allows readers to perform basic tasks to secure a small branch office network using Cisco IOS security features available through web-based GUIs (Cisco Configuration Professional) and the command-line interface (CLI) on Cisco routers and switches. The security countermeasures covered in this book, as part of the security policy implementation, include device protection for routers and switches; identity-aware access control; firewall services; IPS deployment; Layer 2 attack mitigation; and VPN technologies.
Upon the completion of this book, readers will be able to:
Describe common security threats and a how to research and verify threats affecting their network
Implement security services in Cisco routers and switches.
Describe these services within the context of the Security Lifecycle and Security Policies.
Describe and implement secure management methodologies and services on Cisco devices
eBook COMING SOON……………
[Report Dead Link] Please leave a comment or send email to report dead links, so that we will update new links within 24 hours.